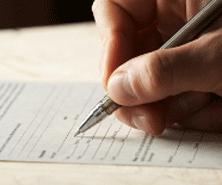 Corporate University
Course Catalog & Enrollment Forms
Corporate University offers the convenience to download and view our course catalog, as well as our enrollment forms. Our catalog and forms are updated regularly to ensure the best in service to your needs.
Enrollment Forms

Course Enrollment Form
Use the course enrollment form to submit your enrollment in any one of our workshop / seminar courses. You can submit payment along with the course enrollment form.
Download

Catalog and General Information

Course Catalog | Updated for 2015
Download and use the course catalog to review our current listing of workshops, online education courses and current courses for our Master's Certificates. Our course catalog is updated each year or as changes may occur.
Download

Frequently Asked Questions
Our FAQ informational flyer provides answers to the most frequently asked questions by business owners, their employees and working professionals. Most questions are answered using this fact sheet.
Download

Program Brochure
Download our program brochure for more information about the Corporate University or to pass along information on our programs to others.
Download